For a long time, the
Not For Tourist
s
series (and their thriving outgrowth communities) have occupied a very cushy place in my heart.
Unlike most travel or locational guides, NFT moves beyond republishing reviews of museums or restaurants and instead focuses on the things (particularly basic locations) residents would actually want to know about when moving to a new neighborhood. Instead of mapping only hotels or other tourist traps, NFT guides pinpoint "restaurants, nightlife, and shopping to parks, public transit, sports stadiums, museums, art galleries, and even hardware stores."
The guides generally come in small, discreet covers you can find at most any
bookstore (or, of course, on their
website
). But another spectacular boon is that you can download ANY of the maps online in .pdf form--
totally free
.
So there's a little bit of background on something I've liked for a really long time. But wait! This entry's about to get even better!
Today in reading a post from
something
through Google Reader (I can't for the life of me remember what), I discovered an awesome new similar online service called
Walk Score
.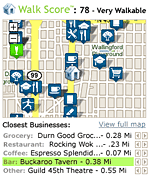 Designed to provide valuable information to real estate operators, renters, and anyone looking to live without a car, Walk Score maps out a ton of neighborhood staples starting from closest to furthest away. Since it uses the Google API to generate a map of how far things are from you, it's incredibly easy to navigate-- and clicking on any of the pushpin icons for different businesses brings up a photo of the storefront and a quick link to Google's "more info"/review dialog.
Awesome.
Currently, Walk Score maps grocery stores, restaurants, coffee shops, bars, movie theaters, schools, parks, libraries, bookstores, fitness centers, drug stores, hardware stores, and clothing/music sellers.
I hope one day it will include banks, dry cleaners, laundromats, doctors' and dentists' offices, veterinarians, and possibly non-profit institutions.
But for now, Walk Score is outstanding and everyone should use it.

http://www.walkscore.com/